This car
did exsist
and was a
factory production model
.My friend Kevin White owns a 1984 SE Cutlass Supreme. If you ordered the sandGray Interior it looked exactly like the 1983 Hurst OLds interior w/Sand gray less Buckets.
The option code was WJE based on the 1984 cutlass supreme coupe (R47)and it made its debut in early dec 1983. I have attached a Press Release picture of the car that came with the WJ3 Dealership Bulletin. Details below...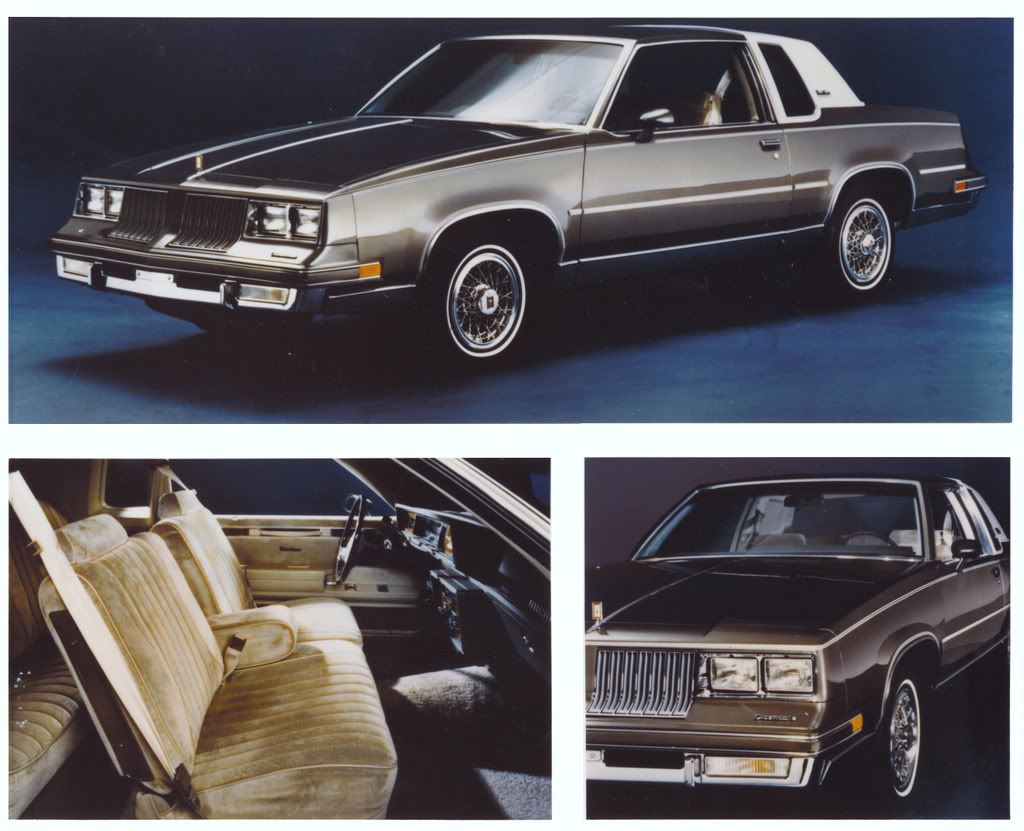 The package was intended to elevate the elegance of the cutlass supreme to new heights,as the Olds Dealership bulletin states.
Features of the car included...
Firemist Paint, avaiable in either #74 Autumn Red Firemist or #87 Medium Sandgrey Firemist
Regency Trimi Winslow Velour trim avaiable in either
Dark Maple (W5- notchback bench-std) or (X5-divided split with dual controls AM6 )
Sand Gray (W1- notchback bench-std) or (X1-divided split with dual controls AM6 )
Specific accent stripe design of either gold or silver, The specialstriping includes both hood,rear deck, over wheelopenings, in additon to sides.
Locking simulated Wire Wheel discs (W91) perferred choice in the elegance package but the new SS Chromewheels (N66) maybe selected at the same cost. If you choose SS Chrome wheels they were color cordinated with the Aut Red Firemist in the wheel pockets. On Med Sand Gray they were painted black.
Specific Special Edition Emblems identifying these cars appear both on the sail panels and center instrument panel.
Color coordianted sport mirrors (D35) you could also order remote mirrors (D68) for both drivers side and pass side.
Color Coordinated body side molding (B84)
The MSRP for the package was only $355 which was actually a bargin since the locking wire wheels and firemist paint cost much more than the WJ3 option.
You could also combine this with the popular option package WL7 or the Diesel traveling Package WL6
Pricing for the options were as follows...
MSRP
V1K Firemist paint $210
N/A Special Accent Stripes $45
B84 Color Coordinated Body Side Moldings $45
D35 Color Coordinated sport mirrors $53
N91 Simulated locking wheels $190
N/A Regency Trim N/A
Special Edition Emblems N/A
Total MSRP in excess of $543.00
MSRP of WJ3 option $355.00
Total savings in excess of $188.00 you saved
Popular Option Package (WJ7) includes followed by MSRP $
N66 SS Wheels $99- UL1 ETR AM-FM Radio with clock $277
U75 Power frt Antenna $60 - D90 Accent stripe $45
QMX P195/75 R14 Steel Belted radial whitewalls $62 -
N33 Tilt steering wheel $110.00 -CD4 Pulse wiper $50
Total MSRP $703 Total savings $200
You could combine the WJ6 Diesel Traveling package at a savings of $300
THey had you refer to Olds Bulletin 83-6 from Aug 29th, 1983 for more info.
Seating and fabric ordering codes were
Custom notchback bench seat W5 dark maple W1 Sand Grey
Custom divided bench w/ Dual control X5 darl maple X1 Sand grey
Items not available with WJ3
AC3 6way power bucket seats-A51 Bucket seat-D55 Sport console
D90 accent stripe - Y71 Paint scheme - N67 SS Wheels painted
To order the CSC R47 with Special Ed Package you simply inserted WJ3 in the "additions to select a unit" section of your ordering form. Designate theupper and lower exterior paint color,specify seat/trim, and leave accent box blank. Each option such as the Poplular Option package WL7 also needed to be inserted in the "additions to select a unit" section of your ordering form.[/quote]